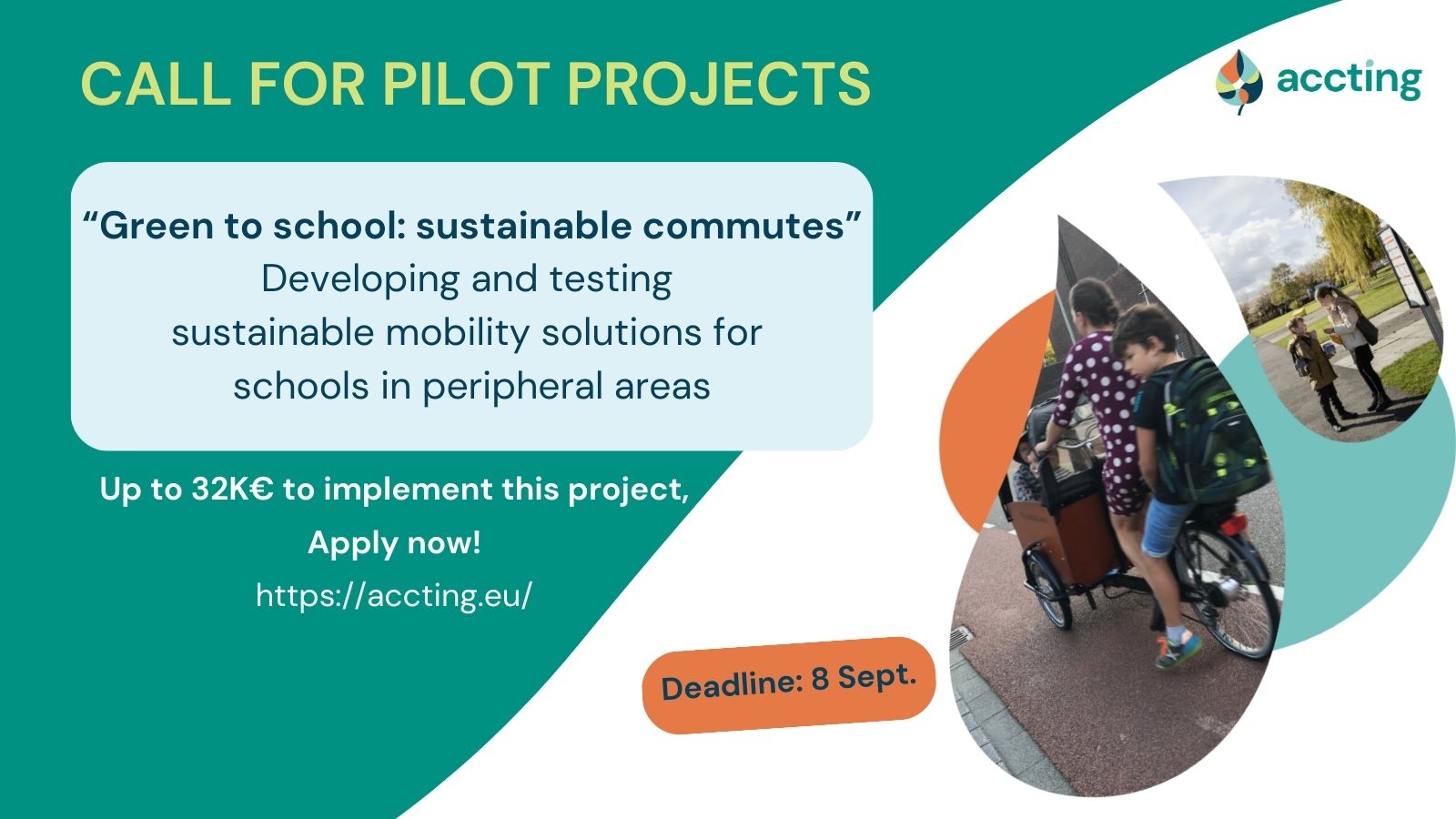 "Green to school: sustainable commutes"
Are you engaged in an NGO or civil society organisation aiming to increase the uptake of sustainable mobility options in a real-life peripheral school context? 
ACCTING is funding 10 innovative projects on specific topics that have high potential to reduce or prevent inequalities and negative impacts related to the Green Deal on poorer, marginalised and vulnerable groups. Up to €32,000 per pilot will be awarded – subject to costs motivation from applying parties – for projects which should last up to 12 months. The call for organisations to implement these projects is open until 8. September 2023.  
The pilot action, "Green to school: sustainable commutes" – Developing and testing sustainable mobility solutions for schools in peripheral areas, aims to promote sustainable transportation choices in schools located in peripheral areas. This involves encouraging civil society organizations, schools, and parents to collaborate in making the school journey more sustainable. By working together, you can develop and test innovative ideas that will inspire students and their families to embrace sustainable mobility options.  
For this specific call, we are looking for not-for-profit organisations (NGOs, civil society organisations, associations, etc.) with a track record of working with schools (this includes pupils and parents), preferably on mobility and/or sustainability issues. Also, schools can apply under specific conditions.  
Under this call, applicants are required to have also documented and proven experience in the following areas:  
Documented experience and knowledge in the relevant fields (see above); 

 

Established network and collaboration with local associations and grassroots organisations; 

 

Project development in all its components (budgeting, planning, implementation, reporting);

 
 Read the call details and application procedure
Learn more about all calls for pilot projects on the Pilot actions page, in areas such as Energy, Mobility and Food.  
Submit your application to make a difference in your community!