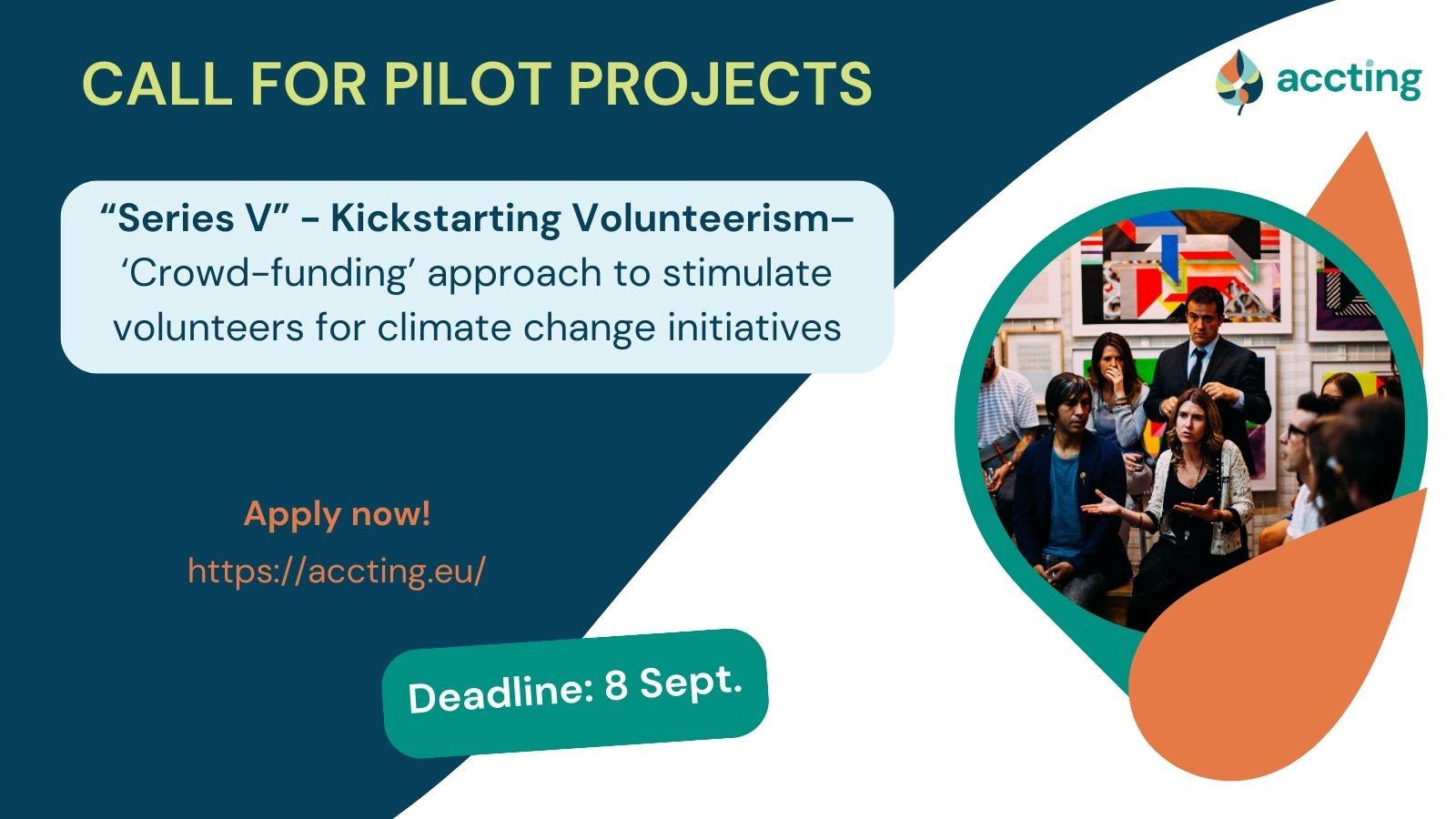 "Series V"– Kickstarting Volunteerism
Are you actively involved in a project that can contribute to socio-ecological transformation and combat climate change? 
ACCTING is funding 10 innovative projects on specific topics that have high potential to reduce or prevent inequalities and negative impacts related to the Green Deal on poorer, marginalised and vulnerable groups. Up to €32,000 per pilot will be awarded – subject to costs motivation from applying parties – for projects which should last up to 12 months. The call for organisations to implement these projects is open until 8. September 2023.  
The pilot action "Series V" – Kickstarting Volunteerism– 'Crowd-funding' approach to stimulate volunteers for climate change initiatives aims to develop a platform to connect people and organisations with ideas for socio-ecological progress with volunteers who are willing to contribute time, resources, and/or expertise. The goal is to is to facilitate and activate volunteering efforts and behavior change, particularly among vulnerable groups, ensuring everyone can contribute to society.  
For this specific call, we are looking for not-for-profit organisations associations and local community groups actively involved in community development for sustainable development and climate change related actions. 
Under this call, applicants are required to have also documented and proven experience in the following areas:  
Local Community Groups: These groups should possess a deep understanding of the specific needs and challenges faced by their communities. They should have experience in community mobilisation, resilience-building, and organising volunteer activities. Expertise in collaboration with external stakeholders and advocacy for vulnerable groups would be beneficial.

 

 NGOs/NPOs/CSOs: Eligible NGOs/NPOs/CSOs should possess expertise in sustainable development and climate change. They should have a solid understanding of the environmental challenges and effective strategies for mitigating them. Additionally, knowledge of project management, volunteer engagement, and community mobilisation would be advantageous.

 
 Read the call details and application procedure
Learn more about all calls for pilot projects on the Pilot actions page, in areas such as Energy, Mobility and Food.  
Be part of the change and submit your application today!