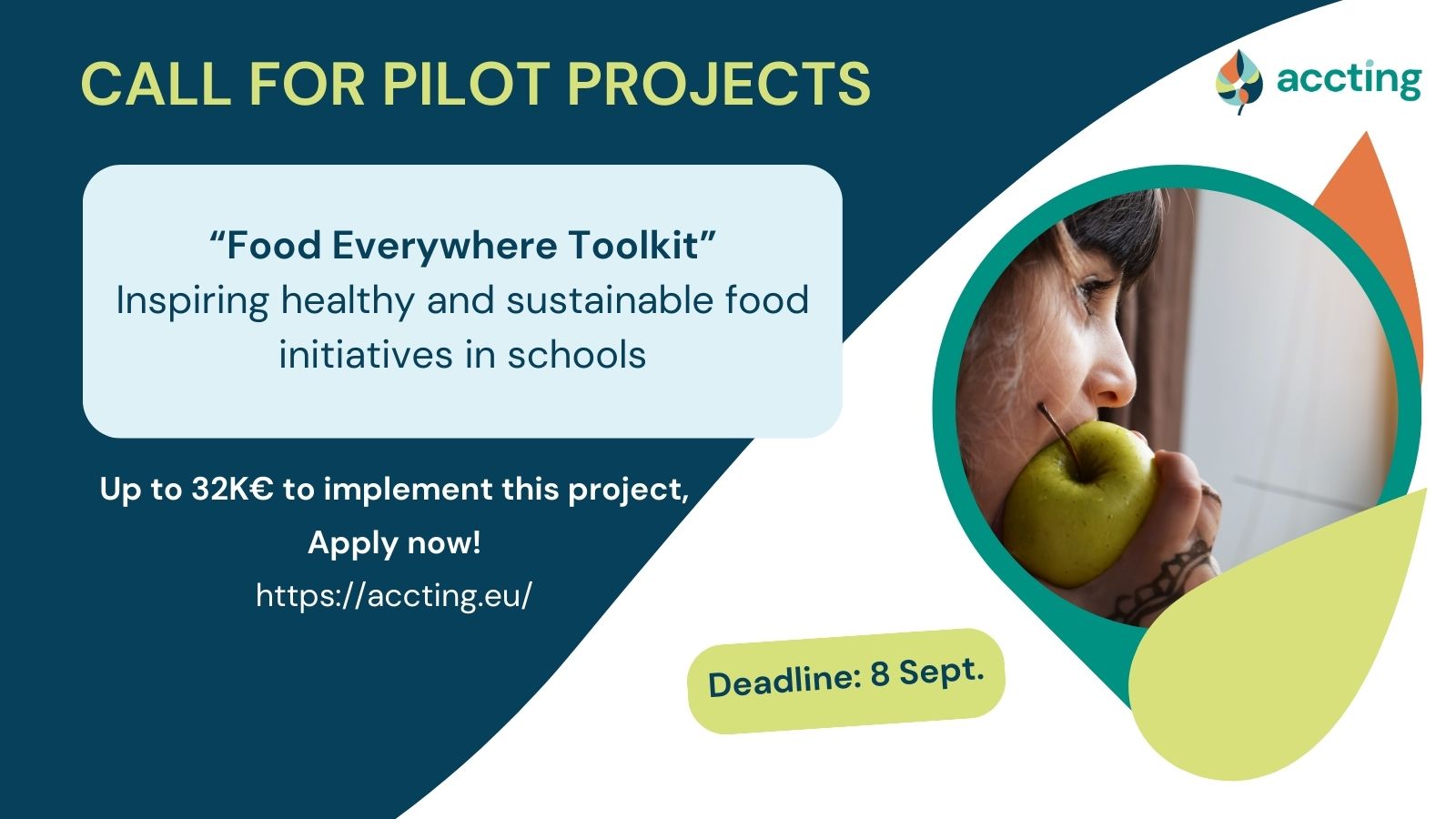 "Food Everywhere Toolkit"
Are you an NGO, civil society organisation, a municipality or a network of schools working on a project aiming to shape the food choices of future generations? 
ACCTING is funding 10 innovative projects on specific topics that have high potential to reduce or prevent inequalities and negative impacts related to the Green Deal on poorer, marginalised and vulnerable groups. Up to €32,000 per pilot will be awarded – subject to costs motivation from applying parties – for projects which should last up to 12 months. The call for organisations to implement these projects is open until 8. September 2023.  
The pilot action "Food Everywhere Toolkit – Inspiring healthy and sustainable food initiatives in schools" aims to develop a set of tools and resources to inspire, motivate and assist teachers, principals, students, people working in various jobs within schools, and potentially also parents, to launch initiatives at their school in which healthy and sustainable food is available everywhere in the school and becomes part of its core values. The main objective is to increase the number of schools prioritizing healthy and sustainable food, promoting a shift in children and families' behavior towards adopting environmentally sustainable diets. 
For this specific call, we are looking for not-for-profit organisations (e.g., NGOs, civil society organisations, associations, etc.), municipalities or networks of schools.  
Under this call, applicants are required to have also documented and proven experience in the following areas:  
Environmentally sustainable food systems. 

 

 Learning & education activities particularly for young children. Previous involvement in projects related to education, school-community engagement.  

 

Developing a business case (financial appraisal, proposal, strategy and marketing plan). This expertise is desirable but not essential.

 

Diversity and inclusion of children with neurodiversity, disabilities and other vulnerabilities, in education & learning activities.

 
 Read the call details and application procedure
Learn more about all calls for pilot projects on the Pilot actions page, in areas such as Energy, Mobility and Food.  
Submit your application today and let's join efforts to build more sustainable and inclusive school communities!