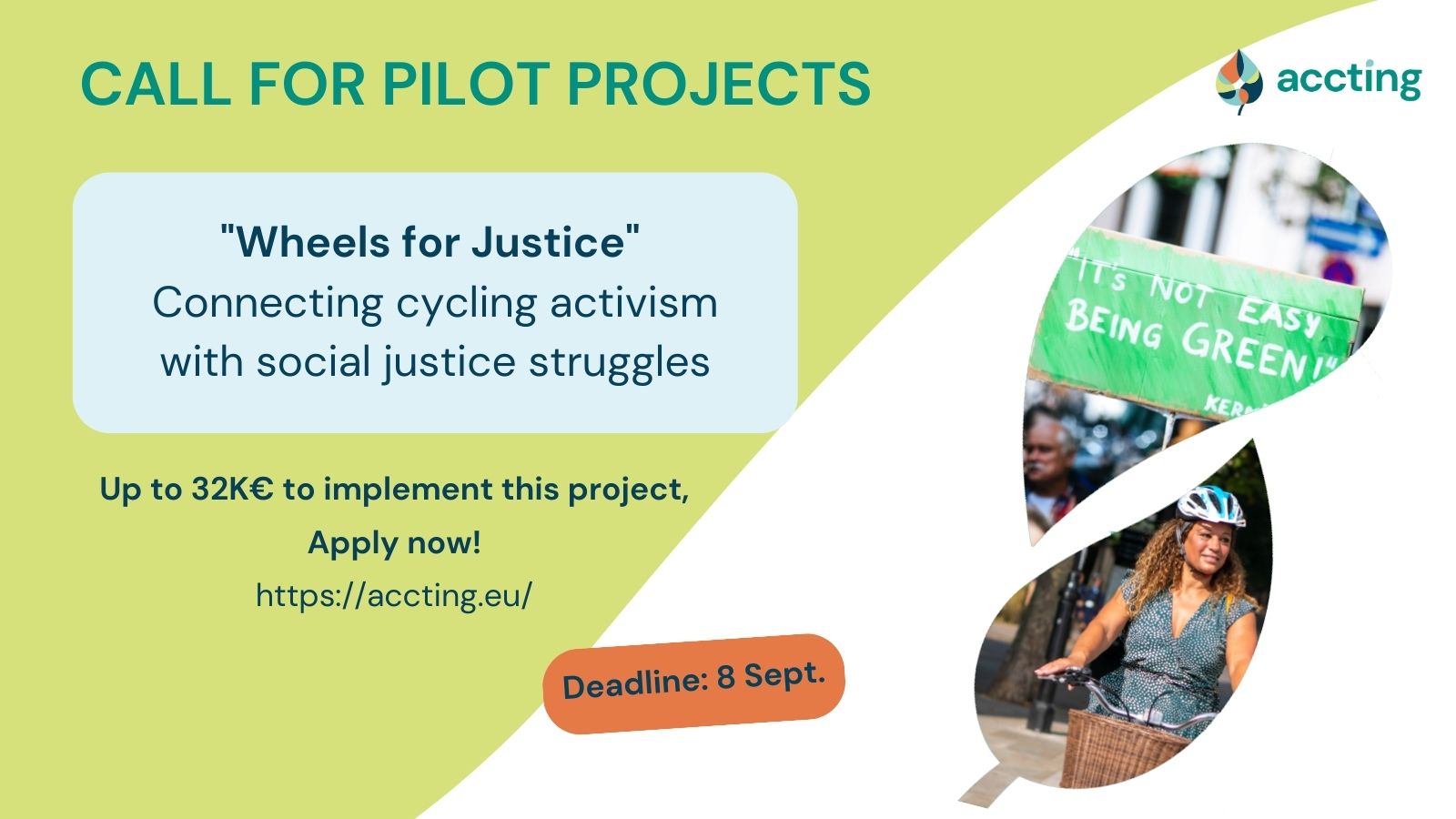 "Wheels for Justice"
Are you working on a project aiming to promote cycling as a way improve mobility, health, and social justice? 
ACCTING is funding 10 innovative projects on specific topics that have high potential to reduce or prevent inequalities and negative impacts related to the Green Deal on poorer, marginalised and vulnerable groups. Up to €32,000 per pilot will be awarded – subject to costs motivation from applying parties – for projects which should last up to 12 months. The call for organisations to implement these projects is open until 8. September 2023.  
The pilot action "Wheels for Justice" – Connecting cycling activism with social justice struggles, aims to connect cycling activism with social justice struggles through identifying innovative approaches to expand the reach and impact of cycling, making it more accessible and inclusive. The objective is to celebrate and share successful initiatives in inclusive cycling, while also advocating for actions to address the obstacles encountered during this process.  
For this specific call, we are looking for not-for-profit organisations associations and networks from civil society and cycling associations, federations, and networks promoting activities inspired by inclusivity and non-discrimination. 
Under this call, applicants are required to have also documented and proven experience in the following areas:  
Documented experience and knowledge in the relevant fields (see above)

 

Established network and collaboration with local associations and grassroots organisations

 

 Project development in all its components (budgeting, planning, implementation, reporting)

 
 Read the call details and application procedure
Learn more about all calls for pilot projects on the Pilot actions page, in areas such as Energy, Mobility and Food.  
Submit your application to secure the fund!