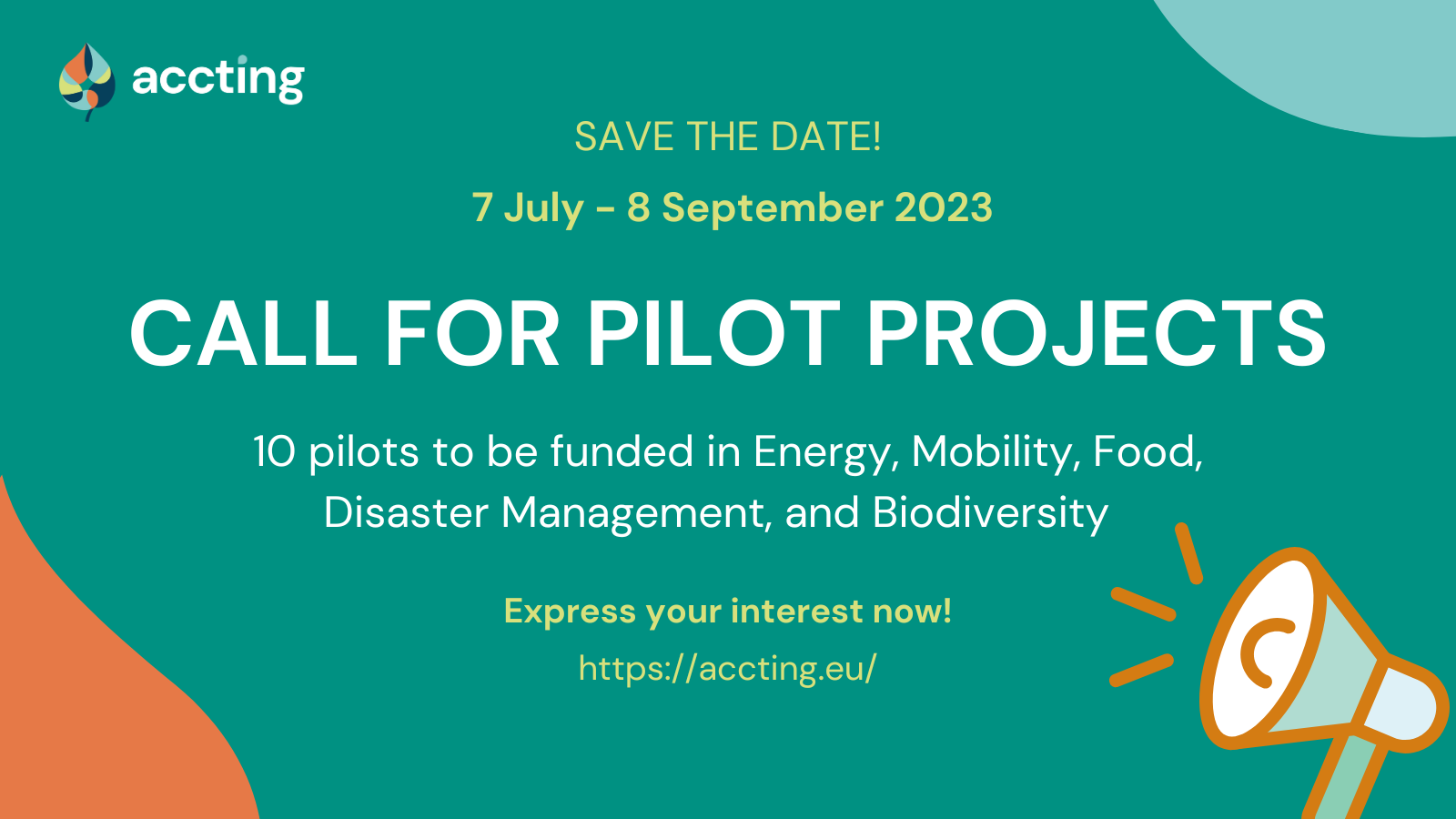 ACCTING will be funding 10 pilot projects!
Implement pilot actions – Ensure a Green Deal where no one is left behind!
The ACCTING project team has identified 10 ideas for pilot actions that have high potential to address vulnerabilities in the areas of the European Green Deal, and will be awarded, funded and tested through a call that will open on 7. July and close on 8. September 2023. 
Up to €32,000 per pilot will be awarded – subject to costs motivation from applying parties – for projects which should last up to 12 months.
Who?
Application is open to European Local authorities, civil society organisations, Industry and SME, and associations working in the following areas: Energy, Mobility, Food, Disaster Management, and Biodiversity.
What? 
The call for pilot projects covers the following topics:
"Next time better and more inclusive" – Engaging local communities to ensure improved disaster responses

"Wild eyes – Biodiversity crisis knowledge" – Engaging citizens to document the biodiversity crisis

Awards for inclusive energy communities – Recognising outstanding efforts to mainstream inclusivity in energy communities

Hands-on small-scale support for vulnerable entrepreneurs – Supporting micro-entrepreneurs to achieve more environmentally sustainable businesses

Garden BnB – An exchange platform between actors involved with community gardens or agrifood systems

"Food Everywhere Toolkit" – Inspiring healthy and sustainable food initiatives in schools

"Green to school: sustainable commutes" – Developing and testing sustainable mobility solutions for schools in peripheral areas.

"Wheels for Justice" – Connecting cycling activism with social justice struggles

"Series V" – Kickstarting Volunteerism– 'Crowd-funding' approach to stimulate volunteers for climate change initiatives

Cultivating Changemakers: Youth Empowerment through activism – Internship opportunities for school students at NGOs working on social justice in relation to the Green Deal
When?
The call for applications is open from 7. of July until 8. September 2023.
How?
Fill in the form to let us know under which field
you are interested in applying!
Read the details of each call and application guidelines!